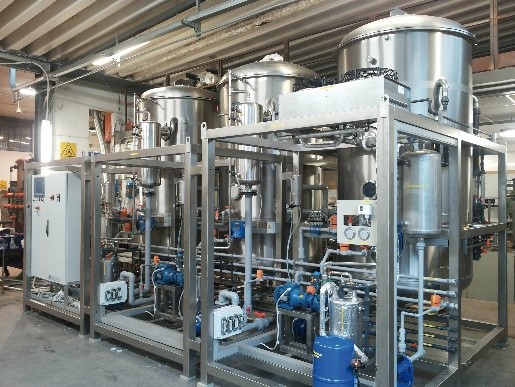 Vacuum Evaporator (C&G)


The treatment and disposal of high strength industrial wastewater using conventional process is not feasible from the fi­nancial standpoint. In many cases, evaporation process is viable to achieve a substantial reduction of wastewater volume for direct disposal and in certain applications, to recover the dissolved inorganic salts.
Conventional evaporation systems involve complex installation and high energy cost which make the process not feasible for small industries. The principle of C&G evaporation system is based on the combination of two innovative technologies – HEAT PUMP and BOILING UNDER VACUUM giving the advantage of energy saving and simple installation. With 30 years of experience, C&G has installed more than 800 machines all over the world.
How It Works?
Air inside the evaporation and condensate chamber is drawn by a high pressure pump via an ejector. This ejector creates a pressure as low as negative 920-950 mbar inside the chamber and at this pressure, water will boil at 30-40°C.
The heating circuit is driven by a compressor (1) which compresses the refrigerant to 60-70°C in the heating coil (2). The heat energy is then transferred to the feed liquid causing it to evaporate. The Freon then passes through an air / water cooler (3) and vaporizes via thermostatic expansion valve into condensation coil (4). When the steam from evaporation chamber contacts with the condensation coil, it will transfer the heat energy to the Freon and this reclaimed energy is used again for the heating of feed liquid.
The condensate at the bottom of condensation chamber is extracted by high pressure pump (5) via an ejector and accumulates in the distillate collector (6). The residue / concentrate is automatically transferred by residue pump (7) or removed manually once the required concentration has been reached.
Advantages of C&G Evaporator:
Extremely compact system – Saving in space required
Fully automatic working cycle – controlled by PLC
Low energy consumption – boiling under vacuum
No fume / air pollution – closed system
No chemical required – saving in treatment cost
Less sludge produced – saving in sludge disposal cost
Physical separation process – recycling of concentrate / distillate
Custom design – for various medium and application
Simple working concept – minimum troubleshooting / maintenance
Safety / Protection components – for safe operation
Quick ROI – pay back of investment can be <15 months
System Consists of:
One unit of heat pump / compressor
One unit of high pressure pump
One unit of evaporation chamber
One unit of condensate chamber
One set of distillate collector
One unit of air / water heat exchanger
One set of safety component
One unit of PLC controlled mimic panel